Knowledge bank/guides
Smarter Worklife - Tilbage til arbejdspladsen
Hvordan ser tre forskellige virksomheder, inden for vidt forskellige brancher, på fremtiden for deres kontorer? Smarter Worklife har stillet spørgsmålet til Havforskningsinstituttet, Microsoft og PostNord.
Survey – den nye normale
Det store spørgsmål er, hvor meget vi kommer til at arbejde hjemmefra i "det nye normale"? Hvordan vil kontoret udvikle sig? Hvilke funktioner har vi brug for der? Det er tydeligt, at medarbejderne vil efterspørge fleksible løsninger. I Coor ønskede vi at vide mere om, hvad medarbejdere og kunder forventer af fremtidens arbejdsplads. Og derfor spurgte vi via analysebureauet Synoints over 500 nordiske virksomheder. Håbet er, at du kan finde inspiration til, hvordan I som virksomhed udvikler jer til fremtidens arbejsplads. Rigtig god læsning!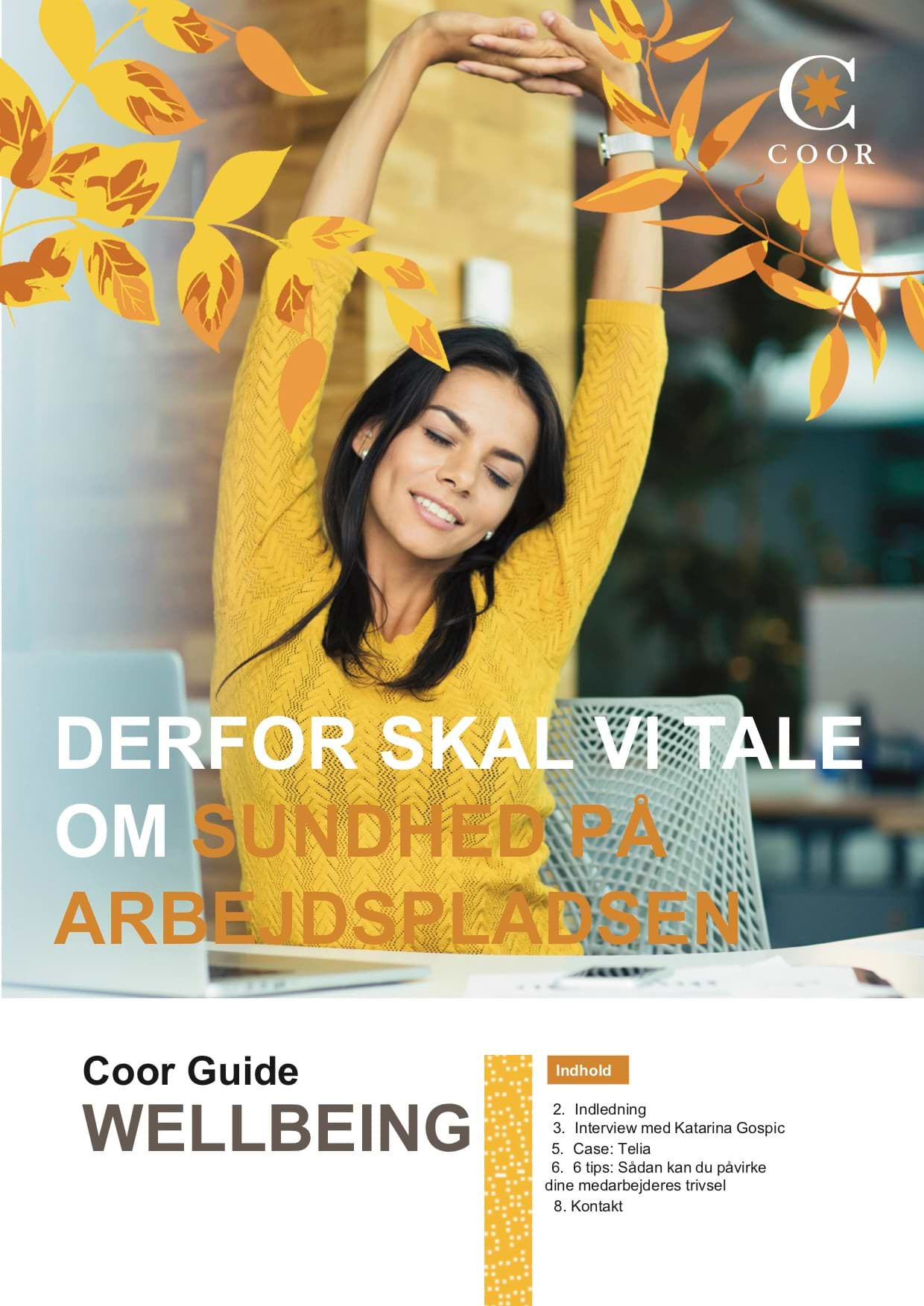 Guide Wellness - Derfor skal vi tale om sundhed på arbejdspladsen
Den nedadgående trend for, hvordan vi egentlig har det på vores arbejde, er ikke længere kun koblet til den enkelte medarbejder – men til hele samfundet. Kan løsningen på problemet være varige adfærdsændringer i arbejdskulturen?
Coor guide Smarte bygniger - Smarte bygninger giver smartere arbejdspladser
Hvilken forskel kan en bygning egentlig gøre for medarbejdernes sundhed og for vores egen evne til at tage ansvar for miljøet på vores arbejdsplads? Fremtidens intelligente maskiner tager hånd om både mennesker og miljø. Begrebet Smart Buildings forbindes ofte med nye bygninger, ny teknik og frem for alt bygningsautomation. Det vil sige automatiserede processer til kontrol og styring af bygningernes installationer og kan fx handle om ventilation, belysning og sikkerhedssystemer. Men en smart bygning kan være meget mere end det. En smart bygning tager altid udgangspunkt i behovene hos dem, der opholder sig i den. Fokus ligger frem for alt på tilgængelighed, funktionalitet og sikkerhed, samtidig med at bygningen skal levere en attraktiv brugeroplevelse, et sundt indeklima og yderligere tjenester, der tilfører medarbejderne og brugerne værdi.
Guiden Vested Outsourcing: Ny model for partnerskab skaber værdi for både kunde og leverandør
Relationsbaserede forretningsmodeller er en trend, der vinder terræn inden for FM. Flere har opdaget, at det er svært at skabe en langsigtet og innovativ FM-leverance, der bidrager til konkurrencefordele i kernevirksomheden. Det kan skyldes, at FM-tjenester indkøbes med stor fokus på pris og detailstyring. I stedet efterspørges stadig oftere en resultatbaseret forretningsmodel, hvor et nøje udarbejdet samarbejde skaber en fælles interesse hos både kunde og leverandør. Forretningsmodellen Vested har til formål at give kunden lavere omkostninger kombineret med indtægtsøgende innovationer, og samtidig give leverandøren gode marginaler – en vaskeægte win-win-situation.
How can I control my supplier?
This article is discussing how to improve collaboration with the FM-supplier and how to set the right targets with the goal of maximising efficiency. This paper should be of interest for FM-buyers, sourcing professionals and FM-consultants who are about to prepare for a tender.
A seamless contract start
It is an extensive to integrate an FM corporation, which previously was part of another company. Coor has a tried and tested integration process based on many years' experience of taking on complex FM operations. Here we share our learnings. This paper should be of interest for FM-buyers, sourcing professionals and FM-consultants who consider outsourcing or preparing an outsourcing.
Everyone is talking about the "internet of things"
The ongoing digital transformation changes the conditions in business and the society in general. In the article, we discuss how IoT affect the FM industry and how Coor takes on the challenge to incorporate digitalization in the operations and the offering. The article addresses stakeholders in the FM business interested in digitalization.
PPP – a new way of working
This paper is discussing the benefits with a PPP outsourcing and it also highlights several important factors to consider before a PPP project. This paper should be of interest for FM-buyers, sourcing professionals and FM-consultants who are considering a PPP project.
6 workplace trends from northern europe
The future office is a platform for organizational culture, for brand management and innovation work. It is a meeting place. Not any more a working place. Work we can do anywhere and anytime, but to be able to work with and manage our culture, our brand and our innovation work in the best way, we need to gather physically and we need to make people want to come to our office, and not just our own people but our clients, partners etc as well. Gather to collaborate and innovate.
Innovation driving development
As the Nordic FM market has matured, customers are expecting more from service providers. So, in response to the market's rising standards, we're taking the next step to keep driving development.
Keeping our schools clean
The debate about unhygienic schools has focused on penny-pinching cleaning of school toilets, which is making students unhappy. How did this happen? And what can we do about it? Sten Mortensen, one of Coor's many cleaning experts, has extensive experience as a purchaser, and of writing and calculating tenders. In his experience, there are a number of common mistakes when purchasing cleaning services.